Harness the power of Kiplot to seamlessly navigate the lifecycle of your initiatives. From initial approvals to intricate workflow management, our Portfolio Kanban ensures every stage of your funnel is efficiently orchestrated, bringing transparency and agility to the heart of strategic delivery
Use Kiplot's Portfolio Kanban to effortlessly steer initiatives through distinct lifecycle stages, ensuring timely progression and strategic alignment at every phase.
Analyze Workflow Efficiency
Leverage Kiplot's Portfolio Kanban analytics to pinpoint workflow bottlenecks, optimizing feature progression and ensuring a smooth, uninterrupted execution.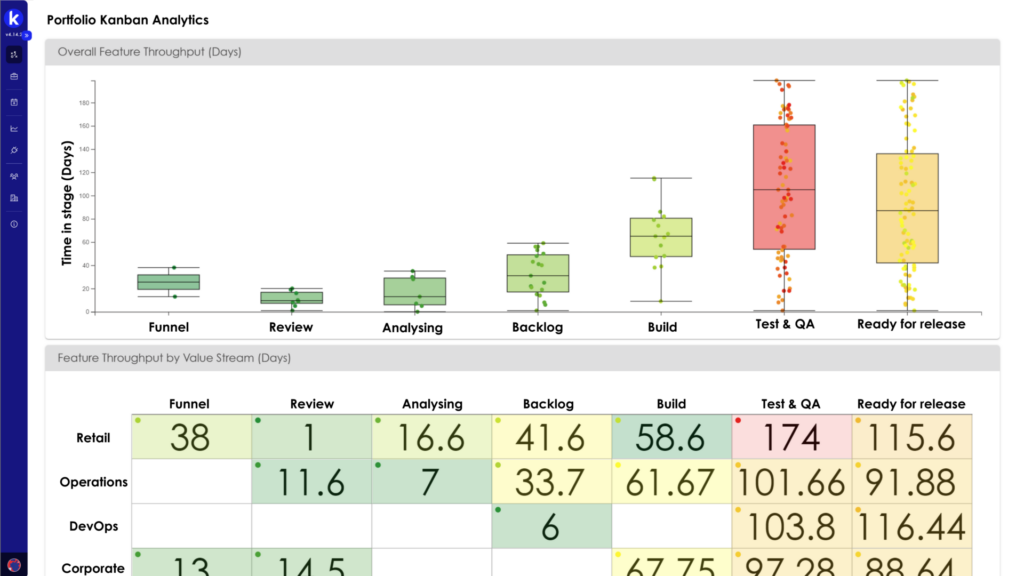 Optimized Feature Planning
Harness Kiplot's capacity-aware roadmap to strategically slot features by team, ensuring work aligns with available resources for timely delivery.
Everything you need to deliver your strategy
Immediate value – easy to adopt right now and no need for an entire transformation programme
Lean yet powerful technology – all the tech you need (and none of the tech you don't) to plan, prioritise and track your way from strategy to reality
A unique orchestration layer – works as a portfolio control centre where you can respond quickly to market changes
Easy to use – for technical and non-technical people alike – designed to unite your teams around a single strategy
Customizable dashboards – stop wasting time building manual reports
Immediate value – easy to adopt right now and no need for an entire transformation programme
Customizable dashboards – stop wasting time building manual reports
Lean yet powerful technology – all the tech you need (and none of the tech you don't) to plan, prioritise and track your way from strategy to reality
A unique orchestration layer – works as a portfolio control centre where you can respond quickly to market changes
Easy to use – for technical and non-technical people alike – designed to unite your teams around a single strategy
Explore more Kiplot features:
Plan, execute and track your way to success
Enable your data driven organization
Forecast, budget, track and realize value
The cutting edge technology that underpins Kiplot
Plan, execute and track your way to success
Enable your data driven organization
Forecast, budget, track and realize your route to value
The cutting edge technology that underpins Kiplot