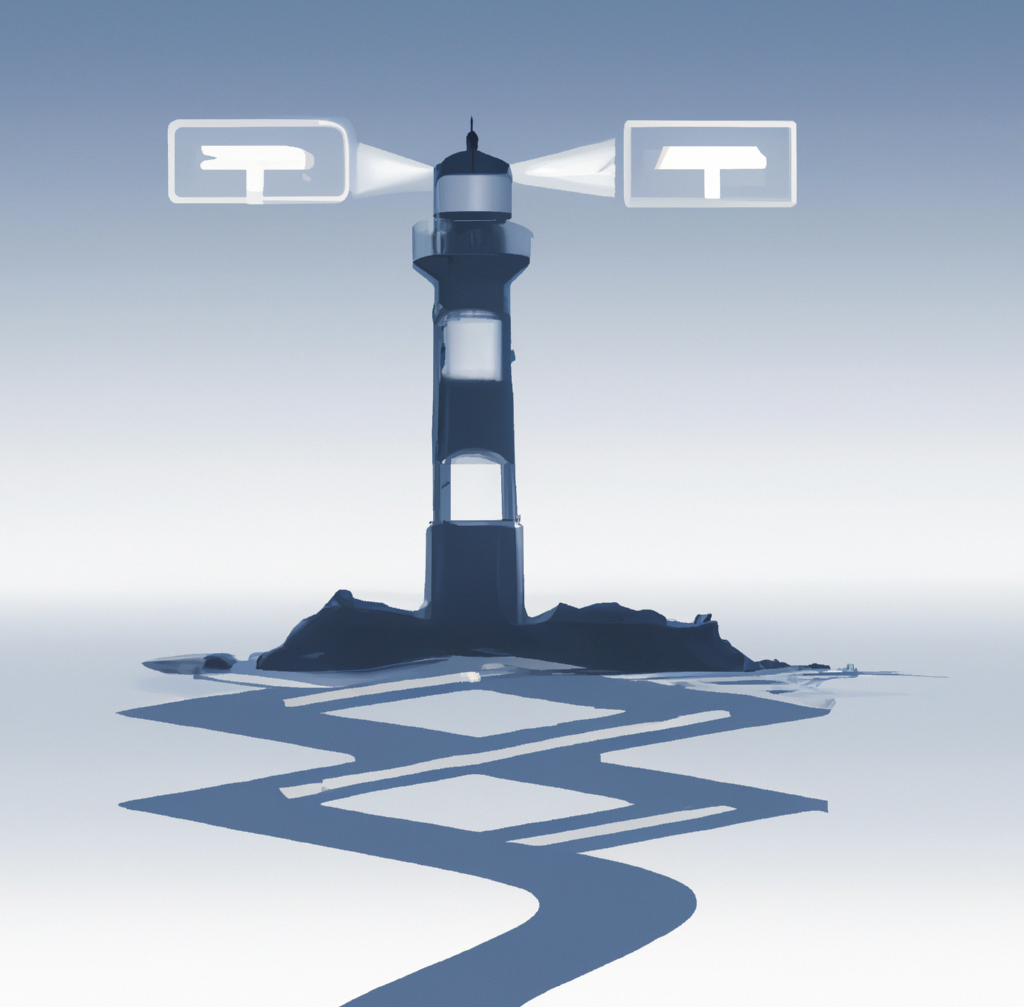 Lean Portfolio Management
An introduction to the implications of SAfE for your portfolio management function
Lean Portfolio Management (LPM) encompasses a broad suite of capabilities, methods, ways of working, processes and operating principles that enables large organisations to instil agility into day-to-day change delivery.
LPM achieves this by establishing an unbreakable golden thread between business strategy and day-to-day execution. This unbreakable connection ensures that everyone in your organisations understands how the work they do drives the overall strategy of the organisation.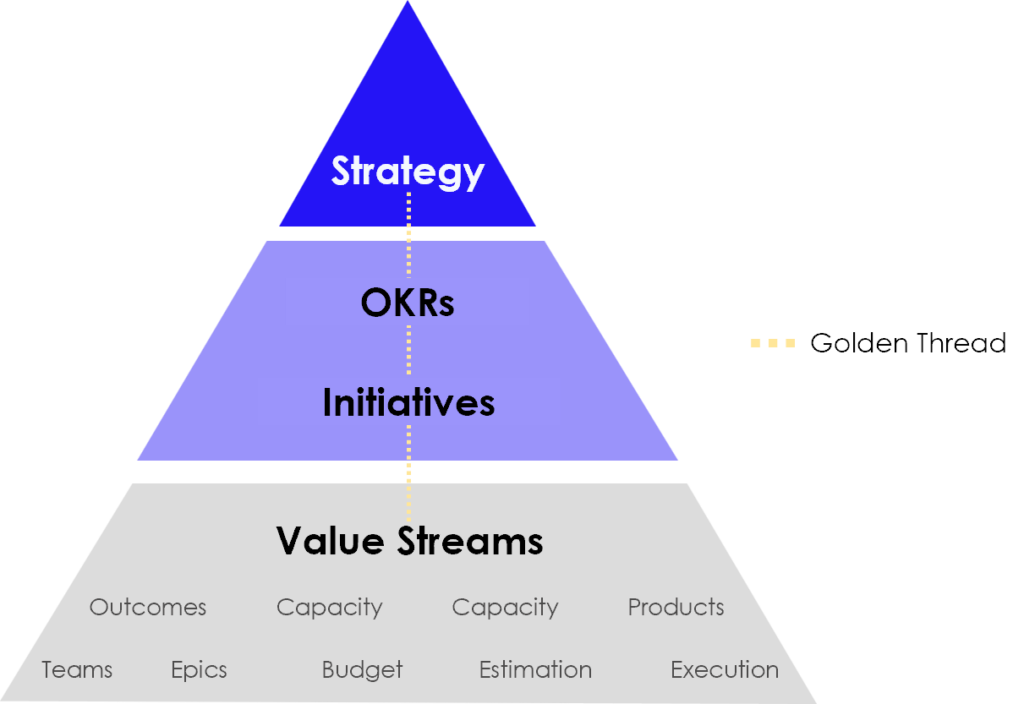 One of the most powerful aspects of LPM is its ability to be implemented iteratively, overtime. It provides a clear path for organisations to follow over time – it should not be thought of as an on/off switch.
Kiplot is explicitly designed to support this journey – allowing organisations to support and maintain their traditional portfolio while simultaneously driving best practice.
The journey to LPM can be split into 5 streams: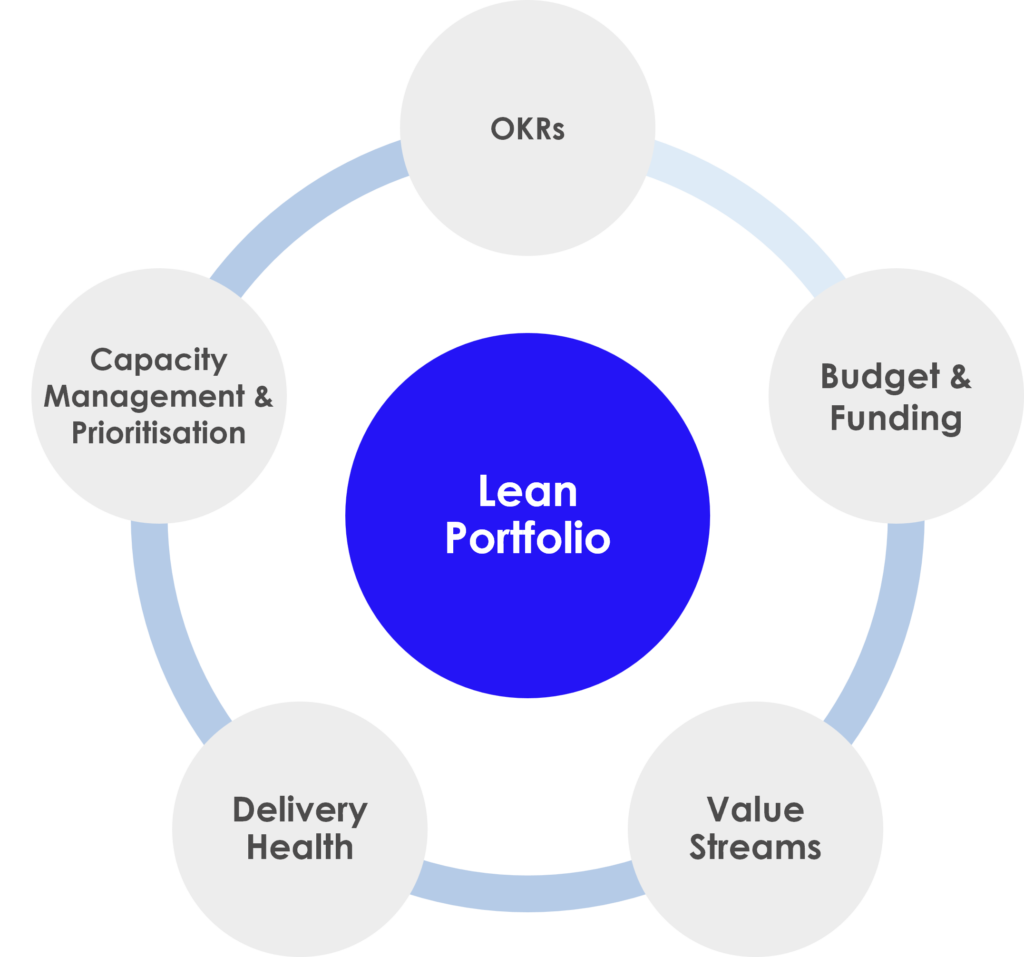 Strategic Planning & OKRs
Crystalising your organisation's strategy into a clear set of objectives and key results requires a mind-set change in the way your change portfolio is conceived. It requires a shift from project-led thinking, towards top level organisational goals. Rather than starting from what you would like to do, start with what you would like to achieve.To read more about Strategy Planning & OKRs – click
here
.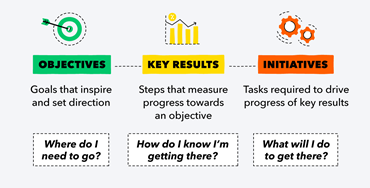 Value stream (and product) centric delivery
The second paradigm shift is to move away from discrete projects with a beginning and end and start to think of your organisation as teams of people working towards a series of initiatives broken down into specific outcomes – providing continuous value. There might be hundreds, or indeed thousands of outcomes. The Lean Portfolio Management framework allows organisations to seamlessly prioritise and deliver these outcomes, as part of initiatives conceived to execute your strategy.
From an introductory perspective, there is no difference between product centric delivery and value stream centric delivery. Both concepts are seek to achieve the same thing – organising teams around continuous delivery of value.
Effective alignment around value streams and/or products typically unlocks significant efficiencies and improved collaboration. To learn more about value streams including how to initiate them – click here.
Demand management, investment and budgeting
Lean Portfolio Management offers the chance for organisations eliminate lengthy investment cycles while maintaining rigorous financial and budgetary controls. It offers through a concept called "capacity led funding". Capacity led funding assigns budget to value streams and products based on their capacity. This capacity is the most important constraint to determining the speed at which outcomes can be delivered.
You may choose to adjust the funding for a given value stream to increase capacity, and accelerate delivery against specific themes.
This funding model can happily coexist with traditional project-led funding models while managing a hybrid portfolio.
To learn more demand management, investment and budgeting, click here.
Capacity management & prioritisation
Lean Portfolio Management puts capacity at the heart of your delivery. Capacity (in both a financial and a resource sense) is almost always the single biggest constraint to delivery.
Kiplot offers organisations the ability to seamlessly and iterative prioritise as the internal and external landscape evolves. This allows organisations to plan and commit with confidence, while eliminating resource idling and ensuring maximum utilisation and productivity.
To learn more about how capacity management and prioritisation works in Kiplot.
Delivery Health
The importance of keeping a real-time finger on the pulse of your day-to-day delivery has not changed. Leadership teams in big organisatons often still feel like they are flying blind. Kiplot reaches down into your delivery tools (e.g. Jira, Microsoft Azure DevOps) to provide data-driven analytics on the status of your initiatives and outcomes.
Kiplot's proprietary delivery health algorithms provide leading indicators and warnings before things go wrong allowing management teams to cut through the noise and take action to ensure the highest priority outcomes remain on track.